A few years ago, I was approached about having a "green" (i.e., sustainable) wedding at Pratt Mansions. I have always thought of myself as environmentally woke, but to be honest, I had never looked at weddings at Pratt Mansions from a sustainability perspective.
Pratt Mansions was built over 100 years ago. We're an historic landmark, a world away from contemporary, eco-friendly design. But the couple planning this green wedding saw things I hadn't really thought about:
Pratt can host the ceremony and reception all in one place, eliminating the carbon footprint of traveling from one to the other.
We are located in Manhattan, easily accessible via public transportation and, in this case, was chosen because of its proximity for family and friends.
Pratt Mansions is also fully furnished and that includes tables and chairs for the reception, cutting down on rental needs and the energy and resources involved in getting them delivered and picked up.
I knew all of these things, of course, but I had never put them together as part of a sustainable strategy. And my point is not to say that these are things you must do, eco-shaming is not the intention here. But I will assume that you wouldn't still be reading this if you didn't care on some level. The fact is, with a few simple choices, you can reduce your wedding's carbon footprint tremendously and still celebrate with elegance and style.
So here goes–my quick guide to a few things you can consider for a sustainable wedding:
Stationery: "Save a Tree" is not just a funny slogan anymore. With climate change, it's become an imperative. You may have already made a great eco choice by choosing to do all your wedding correspondence digitally and, if so, I applaud you.  However, for many others the tradition of choosing a font and creating a wedding invitation and all the extras is non-negotiable. So, news flash, and please don't yell at me: You don't have to compromise quality when choosing to reduce waste with wedding paper goods. I've seen stunning invitations (a great source is Bella Figura in New York City) using recycled cardstock and vegetable-oil based inks. I could not tell the difference.
Encourage your guests to RSVP to your wedding website eliminating postage and even more paper. While you're at it, ask the stationer to provide coordinating graphics for printing on a signage chart instead of individual escort cards. Here is a great example I saw on Etsy: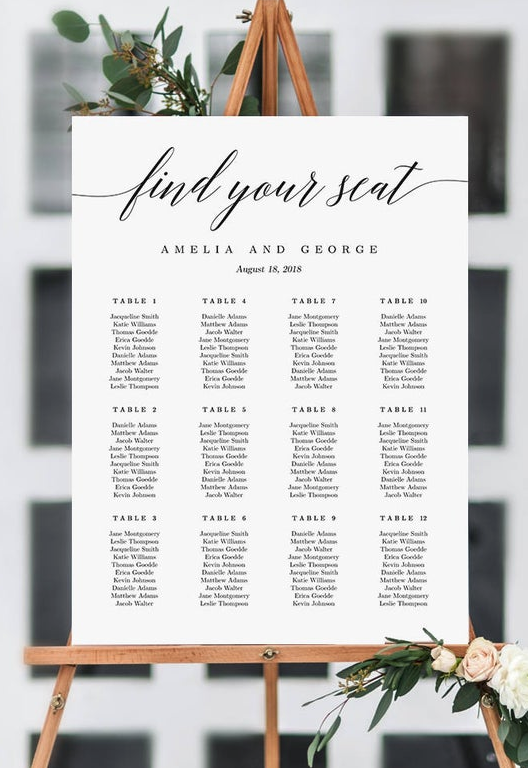 Another simple choice? Instead of individual menus at each place setting, display two per table on a small easel. That's not only eco, it's a great ice breaker.
Catering: Which brings me to caterers and the role they play in sustainable choices. When interviewing caterers, ask if they embrace the farm to table concept, most already do.  Choosing menus in season is the easiest way to begin and most caterers are eager to oblige. They will be more than happy to guide you.  For example- you may love the idea of passing chocolate covered strawberries at your October wedding, but isn't it just as easy to choose tiny pumpkin cheesecakes and just as delicious? Keeping in mind strawberries are in season around July 4th.
Liquor: And that open bar? Relying on local craft liquors (so popular these days) and breweries are decisions that make a big difference and send a subtle message to your guests. Wine can be more problematic—here on the East Coast we don't have nearly the options available in California or the Pacific Northwest, but talk to your caterer and/or wine merchant. They will be sure to have ideas.
Flowers: Take the same approach with your flowers. The lilacs and peonies that you love in May are magnificent, but in other seasons make for a complicated choice.  Let Floral Designers know you want seasonable options. Believe me, they'll appreciate it and their pricing will reflect that.
I could go on and on. There are so many ideas to consider. Antique rings? A vintage wedding dress?  All terrific choices.
You're not going to solve the climate crisis with your wedding. And maybe you can't use all of these ideas, so just choose one.  The key is, even one choice can make a difference and it  encourages others to make mindful wedding choices too.